Brand Strategy Consulting Firm
The best brands are advertisements in themselves. We believe that a powerful brand is the result of a powerful strategy. The key is to find a fresh way into the hearts and minds of your customers, redefine and own the conversation in your industry, and engage people on as many levels as possible. The best product and company brands represent the ultimate process of boiling these ideas down into one consolidated brand marketing strategy.
A comprehensive brand strategy addresses many different areas. These can broadly be represented in a Brand Strategy Map as below.
Brand Strategy Creation – What do we consider?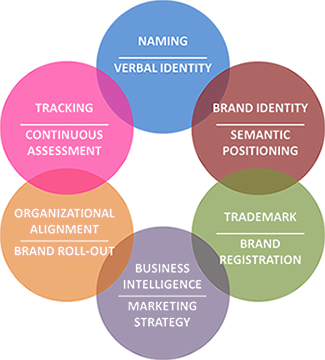 Brand Harvest is one of the best brand strategy consulting firms that you are looking for to enhance the identity of your business. Our strategy includes :
Brand naming - Naming the brand is the smartest decision for every business. A great name gives a global identity and it reaches a position in the market, which will help your brand grow.
Brand Identity - Semantic differential method is an excellent tool to align the brands that reflect clarity about the future. Concentrating on how the future of the business would look like will help in business growth.
Trademark - Be unique among your competitors. Register your brand and create a trademark with unique combination of letters, word, symbol, name and more. Trademark is a sign that allows users to distinguish your products and goods from the other.
Business intelligence - It is the most commonly used business term that improves the marketing returns. Business intelligence is a fast developing brand marketing strategy that creates successful and sustainable business.
Organizational alignment - Strong leadership qualities helps in establishing a new scope, cost and strategy of the organization. Sharing the progress of the business across different top branding agencies in india helps in establishing a great brand.
Tracking - It is an authentic way to find out the progress of the business. The brand communication strategy implemented in the business should be assessed with better tracking facilities.
Why Brand Harvest is the best brand strategy agency for you
Whether you're looking to start a new brand or revamp your existing business, we at Brand Harvest brand strategy consulting firm can create a better brand that takes your business to the right track. We help to portray your business motive correctly. A brand is recognized based on the visual presentation. As a creative branding agency, we employ the right brand marketing strategy to ensure utmost recognition.
Our work reflects the best brand experience and we build an authentic brand that customers believe in. Our approach to every business is different and we formulate the strategies to improve the performance of the business.
Research is our key and we help your customer identify the key values of your brand. With proper research and strategic planning, we make creative efforts to bring out the right emotion of every brand. As a brand strategy agency, our creative process is supported by the adaptable approach.
Use your brand as a storytelling medium to promote the business. Brands are the most effective ways to communicate your messages to your target customers. For your company's long-term success, it is essential to define a unique formula for your identity.
We find out the uniqueness of each brand, employ the industry standards into the business, and develop a strong and connecting brand strategy.
Do you want to talk about brand strategy? Call us now at +91 9323174028.